1. English is the language which is used the widest in the world
Although English is on the second position about the numbers of using people after chinese, English is still a language which is used the most variously in lots of countries in over the world. Beside England, 60/196 countries consider English as their official language.
Moreover, English is used in diplomacy global, is an official language of European Union, United Nations, NATO, European free trade association and other organizations, international Unions.
According to the recent statistics, there are about 1,5 billion people speaking English on global, and about one billion of other people has been using it. This is the reason why English brings more benefits than other languages.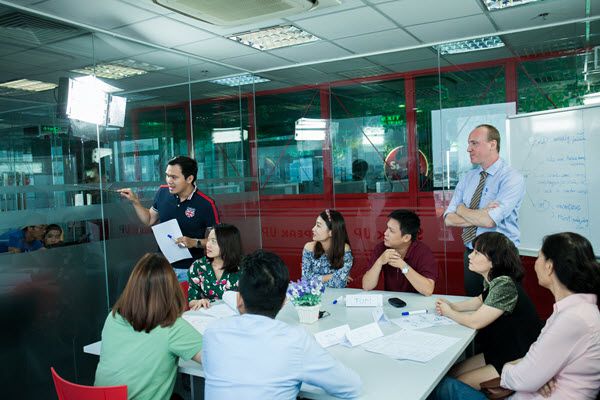 2. English gives you a lot of chances
In a country where English is not the official language, it is still considered as "lingua franca" – a general language for different people from different countries.
Owning English will give you a lot of good chances to communicate with people from different countries and give you strong points in applying for a job in the future. As going on holiday, you aren't worried in case being lost your road in a strange country, be confident to call dishes and can talk to native residents about their living.
With English, you have more choices to work in some careers which require assistants' high English level such as airline, tourism, movies…
3. English helps you more attractive to the empoyers
Knowing one language is an evidence to prove the candidate's intellectual power. It makes the empoyers find that how much time and effort you have invested in owing a new language.
Before a good English candidate, employers will think immediately about what position of works he stands for. The activities of company which refer to international and foreign factors, will be given to officers who are good at English.
4. Thanks to English, you can approach top universities.
English is widely used in university level. From the UK to the USA, top universities require a fluent English level. So, If you intend to study abroad, English is the first thing you have to think of.
5. English helps you approach great works in the world
With a good English level, you can enjoy literature works of famous writers. Reading the original novel "Howling Hill" of Emily Bronte, George Orwell or Jane Eyre's works, Jane Austen's being proud and prejudice…will give you a truth feeling that the translator can't express.
6. English helps you watch films easily
Most excellent and famous films are made from American or English speaking countries. Have you ever watched a film and read all translated substiles while you have been trying not to loose any scenes? If you have a good English level, you won't be hard like that.
7. Thanks to English, you will find it easy to take part in international conferences and events
Most international sport events use English as an official language and the same as other global conferences and events. If your work or hobby is immmersing in these events, you need to learn English. This way not only helps you listen and understand, but also helps you immerse in the variety of events' activities, take chances to develop yourself and your career.
8. English has a set of the most popular and simple alphabet
English has a set of the most popular alphabet, the same with other languages in the world. So, English is considered easier than Chinese, Korean, Japanese, Arabic or Thailand.
Moreover, English also has a certain simple elements, for example, personal pronoun "I" is for the first person and "you" is for the second person in all formal or informal situations, not complicated as French or Vietnamese.
9. English gives you rich knowledges
About 55% websites in the world are written by English which is more than other total languages and farther away from Russian which is used much of the second positon with 6% websites. You can find every information by writing the key word in English.
English is also the language of science. There are 95% texts/articles which are collected at United Science Information Institute, are written by English although a half of them is from countries which don't speak this language.
10. English is an interesting challenge
No doubt, English is one of languages that is difficult to study. For example, the pronunciation is really surprising because reading way doen't involve in writing way, there is a variety of irregular rules that makes learners remember. If you are waiting for a challenge, English is really an interesting choice. The challenge is not only at learning a language. After owning a good English level, a lot of new lessons continue opening for you such as communicating skill, owning situation skill, living skill in English.